Contemporary Dance/Theatre
My work has become more and more about communication: on a physical and verbal level through a positive and healthy relationship with one's body.
Since my career has been on the stage and I have directed a professional performance program, developing presentation and confidence are a primary element of my work with all my students irrespective of age, level or intentions regarding a professional stage career.
I can offer a 2/3 hour contemporary dance class based on release technique: with floor barre, standing and across the floor. I give a small choreography to play with at the end of the class.
My intention is:
to supply the dancer with a clean, basic technique
to create a contemporary dance / theatre artist
to develop a healthy and positive self attitude
to create a performer with style
to support a sense of orientation in the profession of performance artist
to develop a dancer / actor with substantial performing experience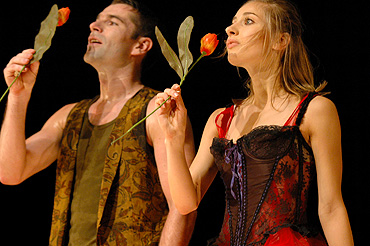 View contemporary dance/theatre photo galleries
What they have said:
Looking back at the last 11 years working together with Grant McDaniel as a colleague in the contemporary dance field in Austria, I have to say I have always admired his capacity in coaching young dancer to develop self confidence, creativity and dance technique. His work allows no compromises and is clearly defined by discipline, strong technique, respect, heart, honest body language, sometimes impatience but also a lot of humor.

People who have gone through his classes have made huge steps forward often beyond what they considered their capacities to be. I look forward to many more years working and creating together and also the beginning of our dancing together.

Gabriella Seeleitner – dancer, teacher, choreographer